Origo Transfer Service
Origo Transfer Service
Thanks to our Transfer Service, pension and investment transfers now glide through quickly and smoothly – completely transforming the customer experience. Processes that used to involve weeks of clunky manual admin and forms sent through the post can now take place electronically.
The Only Complete Transfer Service
Transfer times reduced by 80%, with many in less than one hour
Handling over one million transfers each year
Over £41.5bn of customer assets transferred annually
The UK Market Leader
Launched in 2008, the Origo Transfer Service was the first of its kind available in the UK. It is still the market leader and the only complete transfer service, enabling secure and speedy transfers of pensions, GIAs and ISAs. It allows providers and platforms to save both time and money while delivering better and faster outcomes for their customers.
Over 140 brands
Over 70 organisations trust our Transfer Service to get the job done. Between them they represent over 140 brands.
Origo Transfer Index
Some members of our Transfer Service community have decided to publish details of the average time taken by them to perform an end to end transfer.
How our Transfer Service works
The Origo Transfer Service (OTS) is the electronic pipework that lets connected businesses swiftly and easily transfer customers' funds from one platform to another, replacing outdated and costly analaogue processes. It ensures smoother communications throughout the process, by providing each transferring party with detailed contact points and real-time messaging.
As the first of its kind, OTS reshaped the transfer market, making an immediate reduction on transfer times, from months to minutes.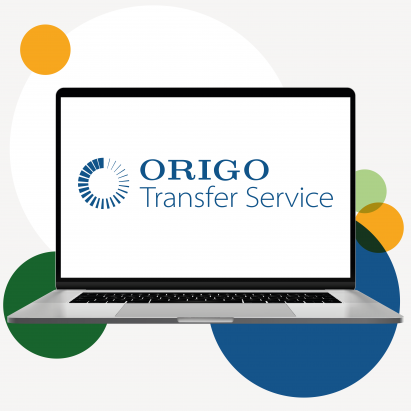 Speed
Transfers can be completed in minutes.
Collaboration
We have the largest transfers network available, which has enabled over 140 brands to transfer more than £270 billion safely and securely
Back office integration
Automatically send and receive information from your back office and feed that information directly into our Transfer Service without the need for re-keying any data.

Management Information
You can get in-depth information when you need it – helping you to manage your processes and workloads effectively.
Helpdesk
Origo Transfer Service has its very own dedicated support function and helpdesk that you can phone or email with your queries.

Why choose Origo Transfer Service?
Pension Transfers
Every year, OTS handles over one million transfers safely and quickly, in real-time, no matter how small or large the customer's pension pot is.
ISA and General Investment Transfers
Our ISA and GIA transfer solution works seamlessly with the pension transfer service, providing the most complete transfer service possible for your customers, in one system.
We work closely with TeX and use the latest market practice and our Transfer Service supports the widest range of assets. Our dedicated team of experts will work with you to build a solution that works for your business and importantly, your customers.
Here's what you get from our comprehensive solution
No hanging around, transfers can happen in real-time
Regardless of whether it's a pension, ISA or GIA, Origo Transfer Service can handle it
Origo Transfer Service enables you to track and monitor how a transfer is progressing, so you have real MI at your fingertips
Dedicated support from experts to help you set up for success
See how you compare: we publish a quarterly report, the Origo Transfer Index, which details the average time taken by some members of our Transfer Service community to perform an end to end transfer.
Get started today
Trying to transfer your personal pension? If so, please contact the provider who you wish to move to, or your financial adviser, who can help.

For more information on the only complete transfer service, get in touch today.

If you are an individual or an adviser looking to transfer a pension, ISA or GIA, please contact the provider who you wish to move to. The Origo Transfer Service can only be used by platforms, third-party administrators, providers, SIPP & SSAS providers and other organisations.
Integration Hub
The Integration Hub gives the industry slicker, quicker connections. Adviser software systems, platforms and providers simply 'plug in' once to the Hub. Information can then be shared between everyone who is connected to the Hub, replacing costly, one-off point-to-point IT builds.
Mortality Screening
Mortality Screening keeps your data accurate and up-to-date. It's a cost effective and efficient way to check that any payments being made are to living customers.